Voltfox Maxi
Convenient Recording, Monitoring and Analysis of All Types of Current and Voltage Signals
Fast and flexible 12-bit-A/D analysis of current and voltage for everyone !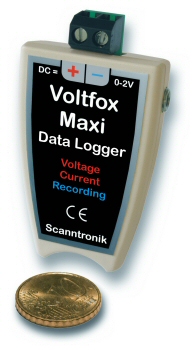 The Voltfox Maxi opens up a new dimension in the monitoring of current and voltage signals.

In its compact housing, the Voltfox Maxi combines a high-resolution 12-bit A/D converter, a 2000Hz hi-speed min/max detection module, an alarm output, memory for up to 64,000 readings, a real-time clock and a RISC microcontroller into an incredibly powerful data logger system. The system is designed to measure between 0-2V and can be flexibly expanded to measure between 0-5V, 0-10V, 0-24V or 0-20mA with the aid of the optionally available measuring range adapters. The A/D converter that is used is impressive thanks to its high 12-bit resolution and high measuring accuracy. The integrated lithium battery supplies the system with energy for up to two years and can be replaced by the user at any time.

After the quick and uncomplicated configuration of the system, the data logger either starts the measuring task programmed on the PC fully automatically or the system runs endlessly in the so-called ring buffer mode. The current and voltage readings are continuously saved by the data logger in a freely configurable recording rhythm.

Thanks to the integrated 2000Hz hi-speed min/max detection module, it is possible to detect even short-term fluctuations in measurements precisely and reliably. To this end, the signal that is to be analyzed is scanned up to 2000 times per second and the min/max values are additionally stored in the memory for each recording interval.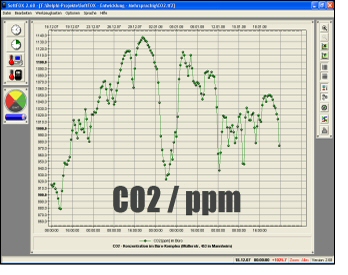 The data logger is programmed and evaluated with the universal SoftFOX software under Microsoft Windows® 98, NT, Me, 2000, XP, Vista or 7. Once the Voltfox Maxi has been connected to a computer via a PC interface cable, the system can be read out or configured immediately. The software offers numerous general functions, such as dynamic project management, graphic data analysis, PC-controlled series of measurement, formula-based measuring value conversion, statistic curve analysis, export function, auto backup, flexible zoom and many more.

The data logger can moreover be configured as required. For this purpose, there are functions available such as the programming of the recording rhythm (1 second to 24 hours), freely programmable and fully automated start/stop mode or endless ring buffer mode, alarm condition for SMS alarm system, acoustic alarm or telephone alarm, 2000Hz hi-speed min/max monitoring, configuration of real-time clock, digital serial number and so much more.

Features:
Stores 16000 readings (option: 64000), sufficient for several years, depending on the interval
Measuring and storing rhythm (1 second to 24 hours) freely adjustable via SoftFOX software
Freely programmable fully automatic start-stop mode or endless ring buffer mode
Standard measuring range: 0 - 2V DC / (including integrated reverse polarity protection)
Measuring range adapters for 0 - 5V, 0 - 10V, 0 - 24V and 0 - 20mA available as option
Resolution of the A/D converter: 12 bit, i.e. 0.5 mV (500uV) at 0 - 2 V DC
Measuring tolerance: < 0.2 % (independent of the measuring range)
Hi-speed min/max detection with up to 2000Hz available for every measuring interval
Flexible alarm output (even for the min/max readings) for e.g. SMS alarm system, acoustic alarm, telephone alarm etc.
Formula-based conversion of measuring values using the optional SoftFOX software
Many other external sensors can be connected to the data logger
Crystal oscillator controlled real-time clock and real-time calender integrated
Measuring data preserved via EEPROM memory even without batteries
Power supply: 3V lithium battery. Can be replaced at any time. Battery life span up to 2 years
Wall holder available as option
Data logger dimensions: 65 x 35 x 18 mm (h x w x d), 25g including battery
Depending on the memory equipment of the system, the active sensors as well as the selected measuring rhythm, the maximum measuring time can be calculated. Here some examples:
16000 readings

Voltage/Current
(without Min/Max)

5 minutes

56 days

16000 readings

Voltage/Current
(with Min/Max)

5 minutes

19 days

16000 readings

Voltage/Current
(without Min/Max)

15 minutes

167 days

16000 readings

Voltage/Current
(with Min/Max)

15 minutes

56 days

64000 readings

Voltage/Current
(without Min/Max)

5 minutes

222 days

64000 readings

Voltage/Current
(with Min/Max)

5 minutes

74 days
Product
Price Each
Quantity
My Cart
Voltfox Maxi (0 to 2 V/DC)
12 bit A/D converter,
data memory for 16000 readings
EUR 130.25 (plus VAT)
EUR 155.00 (incl. GER-VAT)
piece
SoftFOX - Analysis software
for a detailed pc data analysis. Including USB interface cable. Languages: English and German
EUR 63.03 (plus VAT)
EUR 75.00 (incl. GER-VAT)
piece
Memory expansion 64000
Memory for 64000 readings
EUR 54.62 (plus VAT)
EUR 65.00 (incl. GER-VAT)
piece
Measuring range adapter
for 0 to 5 V/DC
EUR 16.81 (plus VAT)
EUR 20.00 (incl. GER-VAT)
piece
Measuring range adapter
for 0 to 10 V/DC
EUR 16.81 (plus VAT)
EUR 20.00 (incl. GER-VAT)
piece
Measuring range adapter
for 0 to 24 V/DC
EUR 16.81 (plus VAT)
EUR 20.00 (incl. GER-VAT)
piece
Measuring range adapter
for 0 to 20 mA/DC
EUR 16.81 (plus VAT)
EUR 20.00 (incl. GER-VAT)
piece
Spare battery (CR2450)
3V lithium button cell battery
EUR 2.52 (plus VAT)
EUR 3.00 (incl. GER-VAT)
piece
Additional accessories for the system:
Product
Price Each
Quantity
My Cart
Data logger storage case (size 2)
Dimensions: 270 x 185 x 93 mm
EUR 33.61 (plus VAT)
EUR 40.00 (incl. GER-VAT)
piece
CO2 sensor (transducer)
without display
Measuring range: 0 to 5000 ppm
EUR 268.91 (plus VAT)
EUR 320.00 (incl. GER-VAT)
piece
Remotefox (remote data transfer)
Remote system for the mobile GPRS data transfer as well as alarm via email and SMS
EUR 668.07 (plus VAT)
EUR 795.00 (incl. GER-VAT)
piece
SMS-Alarm-System
Notification via SMS in any alarm situation
EUR 281.51 (plus VAT)
EUR 335.00 (incl. GER-VAT)
piece
Acoustic alarm system
Notification via acoustic signal in any alarm situation
EUR 54.62 (plus VAT)
EUR 65.00 (incl. GER-VAT)
piece
plus shipping and handling