Hygrofox Mini
Analysis of air quality in mini format
Recording of air temperature and relative / absolute humidity thanks to
revolutionary digital CMOSens® technology !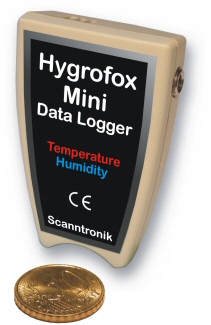 With Hygrofox Mini you are provided with one of the state-of-the-art data logger systems of today.

In its housing, which is not even the size of a match box, it combines an air temperature sensor, humidity sensor, RISC microcontroller, memory for up to 64,000 readings and a real-time clock into a powerful analysis system. The fully calibrated intelligent CMOSens® sensor for temperature and humidity is characterised in particular by its optimised long-term stability, high precision, reliability and extremely fast response time of less than 3 seconds. There is no need for complex re-calibrations since the sensor can simply be replaced directly on site if required. The integrated lithium battery supplies the system with power for up to two years and can be replaced at any time.

The data logger is programmed and evaluated with the universal SoftFOX software under Microsoft Windows® 98, NT, Me, 2000, XP or Vista. Once Hygrofox Mini has been connected to a computer via a PC interface cable, the system can be read out or configured immediately. The software offers numerous general functions, such as dynamic project management, graphic data analysis, PC-controlled series of measurement, dew-point calculation, export function, auto backup, flexible zoom and many more.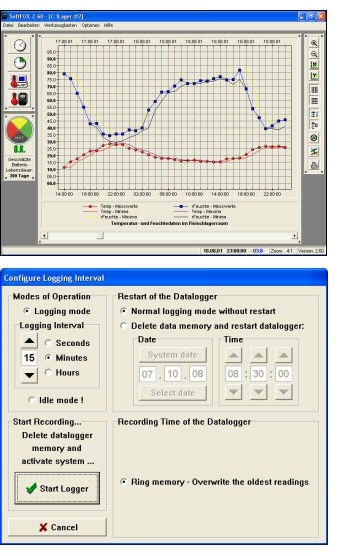 In addition, you can program the data logger any way you desire. For this purpose, functions such as setting the measurement rhythm (1 second up to 24 hours), delay of the measurement start, alarm condition for SMS alarm or telephone alarm, min./max. monitoring for extreme value recording without interruption, even for large measurement intervals, calibration of the real-time clock, battery test, digital serial number and many more, are available.

Beside the analysis with a PC, the collected data can also be printed directly on site via a portable mini printer. In addition, it is possible to connect an alarm system to the data logger. This way, it is possible, for example, to carry out telephonic alarms in the case of falling below or exceeding defined air temperature and/or humidity values. It is also possible to connect an acoustic alarm system. The areas of application for Hygrofox Mini are almost unlimited and range from weather stations and refrigerated warehouses, air conditioning and heating, transportation and storage of goods, automotive technology, building monitoring to process control, etc.
Features:
Stores 16000 readings (option: 64000), sufficient for several years, depending on the interval
Measuring and storing rhythm (1 second to 24 hours) freely adjustable via pc software
Delayed measurement start (date and time) can be programmed
When the memory is full, the oldest readings are first overwritten (ring buffer principle)
Dew-point calculation is possible via pc software (also for a threshold not equal to 100 %rH)
Automatic min/max monitoring for registration of extreme climatic values without interruption
Alarm output for SMS alarm system, acoustic alarm system, telephone alarm system etc.
Crystal oscillator controlled real-time clock and real-time calender integrated
Power supply: 3V lithium battery. Can be replaced at any time. Battery life span up to 2 years
Measuring data preserved via EEPROM memory even without batteries
Measuring range of the air temperature sensor: - 20 °C to 70 °C
Measuring range of the humidity sensor: 0 %rH to 100 %rH (dew free)
Measuring accuracy of the air temperature sensor: < 0.4 °C at 20 °C
Measuring accuracy of the humidity sensor: < 3.0 %rH between 20 %rH and 80 %rH
Optional: Climate sensor with a measuring accuracy of < 1.8 %rH and < 0.3 °C
Resolution of both climate sensors: 0.1 °C / 0.1 %rH
Repeatability of both climate sensors: 0.1 °C / 0.1 %rH
Long term stability of the air temperature sensor: < 0.04 °C per year
Long term stability of the humidity sensor: < 0.5 %rH per year
Calibration certificate available upon request
Data logger dimensions: 57 x 35 x 18 mm (h x w x d), 25g including battery
Depending on the memory equipment of the system, the active sensors as well as the selected measuring rhythm, the maximum measuring time can be calculated. Here some examples:


Memory capacity

Active sensors

Measuring rhythm

Measuring time

16000 readings

relative humidity
air temperature

15 minutes

83 days

16000 readings

relative humidity
air temperature

30 minutes

167 days

64000 readings

relative humidity
air temperature

15 minutes

333 days

64000 readings

relative humidity
air temperature

30 minutes

667 days
Product
Price Each
Quantity
My Cart
Hygrofox Mini
Data logger incl. sensors and data memory for 16000 readings
EUR 163.87 (plus VAT)
EUR 195.00 (incl. GER-VAT)
piece
SoftFOX - Analysis software
for a detailed pc data analysis. Including USB interface cable. Languages: English and German
EUR 63.03 (plus VAT)
EUR 75.00 (incl. GER-VAT)
piece
Memory expansion 64000
Memory for 64000 readings
EUR 54.62 (plus VAT)
EUR 65.00 (incl. GER-VAT)
piece
Increased sensor accuracy
Tolerance: 1,8%rH and 0,3°C
EUR 21.01 (plus VAT)
EUR 25.00 (incl. GER-VAT)
piece
Seal labels (20 x labels)
prevent data logger manipulation
EUR 8.40 (plus VAT)
EUR 10.00 (incl. GER-VAT)
piece
Spare battery (CR2450)
3V lithium button cell battery
EUR 2.52 (plus VAT)
EUR 3.00 (incl. GER-VAT)
piece
Additional accessories for the system:
Product
Price Each
Quantity
My Cart
Calibration certificate
per system, available for all systems
EUR 25.21 (plus VAT)
EUR 30.00 (incl. GER-VAT)
piece
Data logger storage case (size 2)
Dimensions: 270 x 185 x 93 mm
EUR 33.61 (plus VAT)
EUR 40.00 (incl. GER-VAT)
piece
Remotefox (remote data transfer)
Remote system for the mobile GPRS data transfer as well as alarm via email and SMS
EUR 668.07 (plus VAT)
EUR 795.00 (incl. GER-VAT)
piece
SMS-Alarm-System
Notification via SMS in any alarm situation
EUR 281.51 (plus VAT)
EUR 335.00 (incl. GER-VAT)
piece
Acoustic alarm system
Notification via acoustic signal in any alarm situation
EUR 54.62 (plus VAT)
EUR 65.00 (incl. GER-VAT)
piece
plus shipping and handling